FOOTBALL FANS AND FOODIES TEAMED UP TO RAISE $80,000 AT THE EIGHTH ANNUAL JOHN OFFERDAHL'S GRIDIRON GRILL-OFF FOOD & WINE FESTIVAL PRESENTED BY THE UNIVERSITY OF MIAMI HEALTH SYSTEM
Chef David Hackett from the Biltmore Hotel and Louis Oliver Along With Chef Rey De La Osa from Publix Apron's Cooking School in Plantation and Mark Duper Won the Coveted Judge's Choice and Fan Favorite Awards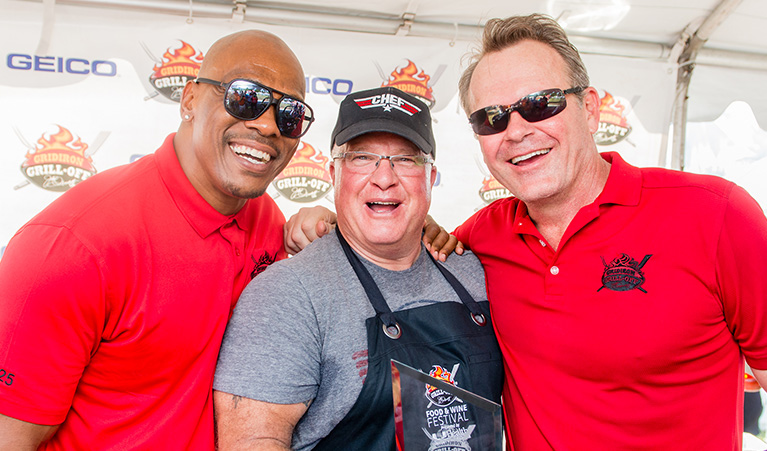 POMPANO BEACH, Fla. (2017) – Football, food and philanthropy came together for a cause as Miami Dolphins legends joined forces with top local chefs at this year's John Offerdahl's Gridiron Grill-Off Food & Wine Festival presented by the University of Miami Health System. Nearly 3,000 attendees spent the day indulging in signature grilled dishes, while raising $80,000 to benefit Offerdahl's Hand-Off Foundation.
"For eight years we have brought food and football together to support programs that make a difference to help feed the needs of those in crisis," said John Offerdahl, event founder and former Miami Dolphins All-Pro Linebacker. "We thank the community for their continued support, as well as the sponsors, legendary players and chefs who make this event possible."
Fans cheered on NFL legends and celebrity chefs from South Florida's finest restaurants as they hit the gridiron to grill up culinary masterpieces. Chef David Hackett from the Biltmore Hotel and Louis Oliver clinched the title of this year's 2017 Judge's Choice Champion with their Grilled Pork Belly and Jelly with Pork Rind. Guests also got in on the action as they voted for their favorite recipes via the Gridiron Grill-Off app throughout the event. Ultimately Chef Rey De La Osa from Publix Apron's Cooking School in Plantation and Mark Duper walked away as the 2017 Fan Favorite Champions for their Andouille Burgers with Remoulade.
In addition to sampling great food and drinks, attendees closed out the event at the Toyota Cornhole Stadium where they teamed up with Dolphins legends, chefs and media personalities in the 2017 Cornhole Tournament. This year's championship team was comprised of Chef Greg McGowan from Pelican Landing, Troy Stradford and Lee Mohler.
The weekend concluded with a concert at the Pompano Beach Amphitheater featuring Sammy Hagar & The Circle with special guest Collective Soul. This live music addition was sponsored in part by the Greater Fort Lauderdale Convention and Visitors Bureau's Film, Music, Fashion & Create division.
All net proceeds from the event benefit Offerdahl's Hand-Off Foundation, which directs funds to organizations that "Feed the Needs of Those in Crisis." Over the past eight years, this annual tradition has raised nearly $500,000 for OHOF's charitable recipients, including Here's Help, Florida Restaurant & Lodging Association, Miami Dolphins Foundation and Taste of the NFL.
About John Offerdahl
John Offerdahl is a five-time All-Pro Miami Dolphins Linebacker who was added to the Dolphin's Ring of Honor in October 2013 along with the 1972 undefeated team and 24 other players. As a successful businessman and philanthropist, John Offerdahl created the Gridiron Grill-Off Food, Wine & Tailgate Festival in 2010 to integrate his love for grilling and football with his passion for helping kids in crisis. For more than a decade, John has operated the ever-popular Offerdahl's Cafe Grill, a quick-casual restaurant specializing in just-grilled steak, chicken, salmon and shrimp on salads, sandwiches and entrees topped with John's signature dressings and sauces. John and his wife, Lynn, give back to the community through the Offerdahl's Hand-Off Foundation.
About Offerdahl's Hand-Off Foundation
Established in 2012 by John and Lynn Offerdahl, Offerdahl's Hand-Off Foundation (OHOF) helps "Feed the Needs of Those in Crisis" in partnership with business, governmental, civic and faith-based organizations. True to its mission to help the most vulnerable, the organization now spearheads John Offerdahl's Gridiron Grill-Off Food and Wine Festival which has consistently raised funds to aid foster care and homeless agencies across South Florida. In recent years, OHOF has expanded its model of giving to generate a greater community impact through the creation of its Home Team Advantage Restorative Housing program. Its sole purpose is to help individuals who are seeking relational restoration and homeownership victory. For more information, visit www.handofffoundation.org.
About the University of Miami Health System
The University of Miami Health System delivers transformational patient care by the region's most comprehensive team of doctors, powered by the groundbreaking research and medical education of the University of Miami Leonard M. Miller School of Medicine. As South Florida's only academic-based health care system, UHealth is a vital component of the community.
UHealth combines a superior approach to patient care, with research, education and academic excellence to create a personalized health care delivery system that is unparalleled, treating patients as individuals and guiding them uniquely through their health care journey. Within the UHealth system, patients can participate in clinical trials and benefit from the latest developments that are fast-tracked from the laboratory to the bedside.
UHealth's comprehensive network includes three hospitals, more than one dozen outpatient facilities in Miami-Dade, Broward, Palm Beach, and Collier counties, with more than 1,200 physicians and scientists. Its flagship facility, The Lennar Foundation Medical Center, opened December 2016 in Coral Gables, marks a new era in health care delivery that brings together the expertise of Sylvester Comprehensive Cancer Center, Bascom Palmer Eye Institute, the University of Miami Sports Medicine Institute and many other specialty services.